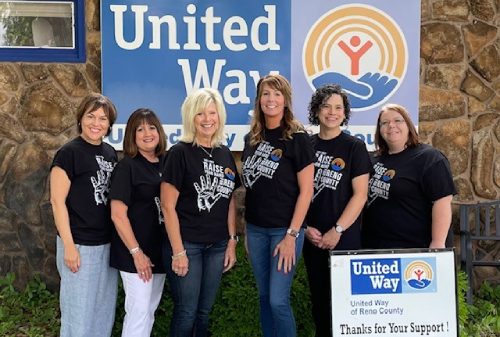 Our Mission
To improve lives in Reno County by mobilizing the caring power of our Reno County Community.
Our Goals
United Way is working to advance the education, income and health of Reno County residents to ensure every child succeeds, every step of the way from cradle to career and beyond.  Our goals are:
 Children enter kindergarten prepared and ready to learn.
 Families gain job stability, income, and financial tools to thrive.
 Children and families have access to affordable health services to improve their overall health
 Families have access to food, shelter, and safety.
These goals are ambitious, but with your help, and by utilizing our core strengths — a community network, committed partners and public engagement — we can achieve them.
United Way responds to the needs of our local community while simultaneously addressing the root causes of key issues. We do this by inspiring and uniting the power of individuals, the business community, and the public and nonprofit sectors around common goals. Together, we're able to drive real community impact in our neighborhoods and local communities.  Together, we're working to ensure that every individual and family is able to achieve educational success, financial stability and good health.